Situation in Ukraine
The political situation in Ukraine
It is not easy for lesbian, gay, bisexual, inter* and trans* people to live in Ukraine. Since the country's independence in 1991, homosexuality is not illegal any more. But that's it for the moment. The population's attitude towards homo-, bi-, inter* and trans* people has been hostile for years now.
Assaults on LGBTI*-people are common. It is not unusual for individual gay-rights opponents to hunt down and threaten gay men in the streets of Kyiv. Like in Russia, neonazi-groups ("Occupy pedofily") pretend to date gay men on the Internet to bring them into their houses where they humiliate them, film everything and put the movies online. In November 2014, unknown persons set fire to Zhowten cinema when it hosted the LGBTI*-film festival Sunny Bunny. The police either offer insufficient protection or none at all to gay people. Thus, the country's first gay pride parade in May 2012 had to be cancelled for security reasons. The mob of violent opponents was too large; two activists were beaten and critically injured. In 2014, the "March of Equality" was cancelled, too, for the same reasons.
A bill banning so called gay propaganda (8711/0945) – in line with that currently law in Russia – has been waiting to be passed by the Ukrainian Parliament for a few years. On October 2, 2012 it was passed on its first reading. Now, it is null and void after two elections. But if the draft, once, was registered again, which might still happen after all, lesbian, gay, inter* and trans* organisations, including those working in the field of HIV-prevention, would be unable to work. Any information regarding homosexuality would be forbidden, with violations punishable by up to five years in prison. In Russia, this very law has led to a state-sponsored hunt for sexual minorities.
Hope for a change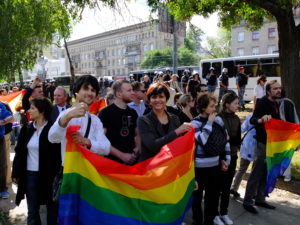 So, homophobia in Ukraine is very common. Activists within the country say it is promoted by the evangelical and orthodox churches, which are attempting to attract followers in economically difficult times. The State is failing economically and politically and thus needs the support of the church. Few people hate gays and lesbians; but most of them just adopt the majority's opinions. A survey of Friedrich Ebert foundation from 2017 shows that up to 40 percent of even young Ukrainians between 14 and 29 have a negative attitude towards homosexuals. And Prides are not popular at all in the country. Finally, the online magazine Objective proves in another, but older survey that 63 percent of all Ukrainians are in favour of a law preventing propaganda for "homosexualism". As if you could choose your sexual orientation or gender identity!
Now, the Ukrainian LGBTI*-community is looking to Europe and places its hopes in the association with the European Union. Already in 2013, the Ukrainian government, under the former presidency of Viktor Yanukovych, followed a quite promising way to European legislation, but then moved unexpectedly towards Russia. The second Ukrainian Revolution has its origin there. As a result of this period, politics even had to deal with an anti-discrimination law as part of the liberalisation of the Visa-regime with the European Union. And KyivPride was held peacefully in 2013 – a historic success. Kyiv's twin sister Munich was part of it. In 2015, Petro Poroshenko, then Ukraine's president, spoke out for KyivPride to be protected. It was held – another historic step – but violent clashes between nationalists and the police after the demonstration proved that there's little support for LGBTI*-rights in Ukrainian society. After long discussions, the parliament finally adopted the anti-discrimination law as required by the EU in November 2015. The most controversial law paved the way for visa-free travel.
So things are finally improving, since 2016 KyivPride is a huge success with thousands of participants marching peacefully in the very centre of the capital and protected by police. In 2016, the government changed the legislation for trans*people which makes it easier for them to get new papers after a successful transition. By 2020, so says the former governmental action plan, Ukraine could see its first ever same-sex marriages, but this was, of course, only a plan. Reforms are stuck and Ukraine's new president, Volodymyr Zelensky, does not push them. He's fine with saying: Let LGBTI* in peace. But that's it!
Uncertain future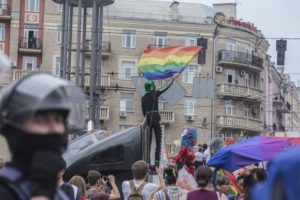 In the violent discussions over Ukraine's more pro-European Union outlook, the anti European activists have abused the concept of equal rights practiced in the EU as an argument insofar as equal rights equals homosexual marriage. And even with a pro EU party in power, homo- and trans* phobia or just plain disinterest in gay issues remains a strong likelihood. Also, the nationalistic forces in Ukraine are a danger for LGBTI*-people. And with the current war, many LGBTI*-people became refugees as they do not want to live under Russian legislation banning so called gay propaganda. Lesbian, gay and trans* people are leaving the occupied regions of Eastern Ukraine and Crimea. Many refugees are giving the continued violence and fear of kidnapping as the reasons for their flight. In Donetsk, homosexuality has even been forbidden by now.
Political parties in Ukraine are definitely no fans of LGBTI*-rights. Only a few members of the Ukrainian Parliament are actively speaking out in favour of such. They all want to join the EU, they want to be part of NATO and reform the country as a whole. However, no party officially has announced to fight discrimination against LGBTI*-people.
It is no excuse for giving up hope. Munich Kyiv Queer seeks to build political pressure to improve Human Rights in Ukraine. Simultaneously, we do everything possible to help build a community in Ukraine. Our goal is for both sides to learn from each other. As, even in Germany, things right now are not perfect. (Status: of summer 2020)