Pictures
From Munich's twin city Kyiv, the artist Ivan Moon presents his partly autobiographical photographs of the exhibition SUBURBIA, ME! at the language school Edeltraud. The actor Herbert Schäfer will read the stories behind at the opening on Sunday, 17th of March 2019, 6 pm. The electro indie band Squareplatz plays three of their songs exclusively for the occasion. Please ask for printable photos
S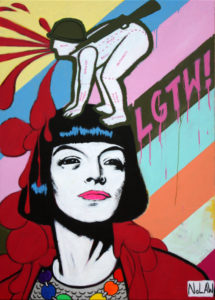 port and art can change the world. "Political resistance, may it be creative, brings fun and has consequences," says Naomi Lawrence. The Munich artist has created an exhibition that deals with this very subject. It's all about "creative protest".  Seven different designers from Bavaria and Ukraine painted kettlebells for Sport. Art and Politics: Freedom Bells. Kettlebells are quite unknown in our country, but it is an excellent way to understand the concept of creative political resistance. Training with kettlebells also strengthens your mind, not only your body. And there are even more options to fight for Human Rights. Picture (Naomi Lawrence), flyer's front (Naomi Lawrence), flyer's back (Naomi Lawrence).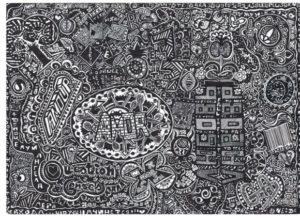 The Ukrainian society is struggling with lesbian, gay and transgender people. Exclusion and hatred are an everyday occurrence; people know too little about same-sex love. Drawing has helped Hanna Zhytar to disperse her gloomy thoughts. "I was so angry about my father; I spent the whole night trying to tell myself that no one would ever hurt me so hard again. And in the morning, I felt better." So, black ink and paper became Annias best friends. Zhytars graphics of Feeling blue in black and white show mysterious patterns, psychedelic-looking figures, dark symbols and many words. It is all about her life. Graphics (Hanna Zhytar), Flyer (Naomi Lawrence)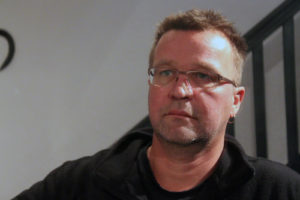 Lorenz Kloska is a patient man. The filmmaker (Raus aus dem Schatten) lives openly gay in Munich and has spent much time in Russian-speaking countries. When Russia, in the summer of 2013, introduced the so called propaganda law prohibiting any positive information about homosexuality, Kloska was deeply shaken. He had a plan to make a film about the situation of Russia's LGBT-community, but soon abandoned it. Then, the idea emerged to document the destiny of the Ukrainian LGBT-activists instead. Because, even in Ukraine's Parliament, there will be decided about a propaganda law. Flyer (Lorenz Kloska)
In autumn, Ukraine's Lesbians play a central role in Munich's cultural life. All around the photo exhibition No right to be herself by Natalia Roi (flyer, poster; Frank Zuber) we illuminate – with a comprehensive program – the situation of Lesbians in Ukraine as well as the situation of sexual minorities in the country in general. From 26th of September 2014 till 22th of October 2014, Munich Pride, Munich Kiev Queer, New Wave, LeTRa, Sub, Arbeitsforum Ukraine, the Office for International Affairs of the City of Munich, the Cultural Department of the City of Munich and LesKult invite you to join several events like a vernissage, a lecture, a panel and a movie. More information is available here. We focus on Roi's art. The photographer portrays Lesbian couples and singles who have to cope with living in a homophobic society. "We love each other, but we have no right to show our feelings in public", say, for example, Oksana and Jenia. That's not an easy life. The women shown in the exhibition have no possibility to speak openly about their problems and concerns. But they do not want to hold still.
You see nothing more than silhouettes. But these are bright – filled with the colours of Kiev, K-olours: with graffiti, with traffic signs, flowers, leaves, buildings and light. The Kiev based LGBT-activist Stanislav Mishchenko has once again portrayed couples of the lesbian, gay, bisexual and transgender people of his hometown. The photographs are on display from the 25th of January until 16th of February 2014 in the Glockenbachwerkstatt in Blumenstraße 7. The opening will take place on 25th of January 2014 at 7 pm – with a speech by City Councillor Lydia Dietrich and music from the women rock band QueenBaba. See pictures K-olours 1, K-olours 2, K-olours 3, K-olours 4.

After the success of 2012 the Ukrainian professional trainer Olena Semenova offers specific Kettlebell courses for beginners, advanced, men and women on the 16th and 17th November 2013. Working in small groups, Semenova responds to the participants' individual needs. The Ukrainian LGBT activist from Munich Kiev Queer caters specifically for lesbians, gays and transgender of the Munich scene. See picture (Kira Schawtschenko)
To Russia with Love – Munich campaign against Russia's propaganda laws. At Europaplatz, on 8th September 2013, lesbians, gays and transgender and others demonstrate with a Kiss-In against the Russian President Vladimir Putin's inhumane and homophobic politics. The actress and singer Maria Maschenka sings a rousing serenade to Mr. P. See picture (Naomi Lawrence). See flyer (Horst Middelhoff).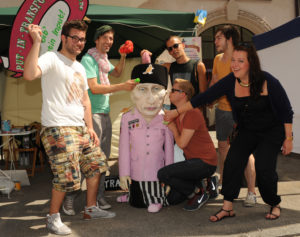 Naomi Lawrence had a great idea for this year's Munich Gay Pride. On Saturday 13th July, the openly lesbian artist goes through the streets with an anti-Putin tank. See picture (Conrad Breyer). The Kiev activists walk along at the head of the parade. See picture (Conrad Breyer).Mr. P. enjoys a revival at the Hans-Sachs Street Festival on 17th August 2013. The guests throw their wishes such as "wisdom", "belief" and "love" into the hollow head. Those who strike successfully improve the world and get a badge with the little mascot MucKi (Munich-Kiev). See picture (Naomi Lawrence). Go the postcard with the rules (Horst Middelhoff). See the action with Mr P. (Gregor Feindt).
Pride but not proud – For the debate in the Sub on the 9th July 2013, the designer Frank Zuber created a postcard with a photo from the delegation member Miriam Distler, showing the historic moment of the successful March of Equality. Pride dances. See postcard. Before that almost all Munich LGBT-groups signed a cooperation agreement with their Kiev friends. See picture (Bernd Müller)
Lord Mayor Hep Monatzeder and councilor Lydia Dietrich take part in KyivPride in Munich's twin city Kiev (25th May 2013). More pictures upon request. See picture (Conrad Breyer)
The Munich KyivPride-Delegation surrounds councilor Lydia Dietrich. From left: Naomi Lawrence, Barbara Lux, Bob Henderson, Miriam Distler, Thomas Lechner, Bernd Müller, Alex Distler, Conrad Breyer, Lydia Dietrich, Stephan Schoeneich, Wieland Arndt, Harald Bayer, Maik Manschitz and Johannes Träumer. See picture (Alex Kluge)
On 27th June 2013, experts from Ukraine and Germany debate in the city hall about the topic: "Working together for more democracy – a look at Ukraine and the perspectives of the city twinning Munich-Kiev". See postcard (Frank Zuber)
The Munich scene collects money for KyivPride. The organizers suddenly lack resources because a few financiers have backed out. 2000 euros are sent to Kiev. Naomi Lawrence and Horst Middelhoff design the mascot "MucKi" (Munich-Kiev), which from now on is the contact group's sign. See postcard (Horst Middelhoff)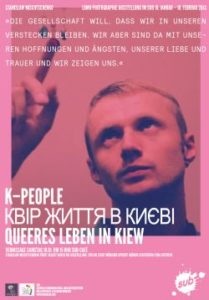 Munich's Lord Mayor Christan Ude welcomes the LGBT activist Stanislaw Mischtschenko from Kiev in his office (17th January 2013). See picture (Kai Gugel)
On 13th January 2013, LGBT activist Stanislaw Mischtschenko exhibits his photography exhibition K-People in the Sub. "K-People – Queer life in Kiev" shows portraits of lesbians, gays and transgender in Ukraine. For the Pride Week on 12th July 2013 the Lomo art can also be seen in the state parliament. More pictures upon request and here. See the poster (Frank Zuber)
The front of the CSD-Parade in July 2012 is formed by Olena Semenova, Taras Karasiichuk and Stanislav Mishchenko (from left) next to mayoress Christine Strobel and councilor Thomas Niederbühl. It was last summer that everything began. See picture (Erwin Harbeck)