November 2019 – Isartonics meet Philhomoniker
01.10.2019 | cb — No comments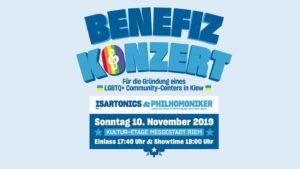 For the benefit of the Queer Home in Kyiv, Philhomoniker, Munich's gay choir number 1, and the new choir Isartonics will invite you to a benefit concert. Queer Homes are small community centres where Ukraine's local LGBTI-community volunteers for activities such as self-help and leisure groups, cultural as well as political activities. Of the once seven Queer Homes, operated by Gay Alliance Ukraine, all have recently had to close.
Donations from Munich made it possible to reopen three Queer Homes – in Odesa, Kryvyi Rih and Vinnytsia. Munich Kyiv Queer initiated the respective sponsorship programme. Munich and Kyiv are twin cities; the LGBTI* communities of both cities have been linked since 2012. Munich Kyiv Queer coordinates the cooperation. The partnership has long since extended beyond Kyiv to the whole of Ukraine.
Dream a little dream
The proceeds from the concert on 10th of November will now go to the planned new Queer Home in Kyiv. In return, the Philhomoniker promise a cross-section of their (also optically brilliant) programme "The Best of Philhomusical" with the most beautiful musical songs since Richard Rogers and Leonard Bernstein.
The Isartonics rock the house with Bon Jovis "Livin' on a prayer" and swing it with "Dream a Little Dream of You". With "Run to You" by Pentatonix the choir shows its amazing a-cappella powers.
When: Sunday, 10th of November 2019, 6 p.m.
Where: Kultur-Etage Riem, Erika-Cremer-Straße 8, Munich
Contact: Martin Gerrits
Organized by: Isartonics, Philhomonics, Munich Kyiv Queer