March 2019 – Volunteers join us!
06.01.2019 | cb — No comments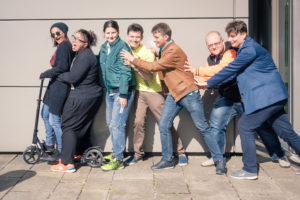 Learning from each other – that has always been the motto of our cooperation. Ukrainians and Munichers, people from completely different cultural backgrounds, have a lot to share. Together we want to achieve more for the LGBTI- movement in both countries and therefore we regularly offer workshops. "Volunteering in the Community" introduces Ukrainian activists to the working methods of Munich's community organisations and groups, most of whom depend on volunteers' work. They visit the most important associations, listen, debate and help out.
When: 24th to 31st of March 2019
Where: Sub, Gay Community Centre, Müllerstraße 14, Munich
Contact: Uwe Hagenberg
Organised by: CSD Munich, Gay Alliance Ukraine, Munich Kyiv Queer, Cultural Department of the City of Munich