BLOG CREATIVE PROTEST ON TOUR Odessa
02.06.2016 | cb — No comments
Our partner, the LGBT-Organisation Gay Alliance Ukraine, has invited the Munich based Artist Naomi Lawrence to hold workshops about Creative Protest in Ukraine. Creative Protest is a simple method how to do politics with creative resources,  in an inexpensive way to express yourself and have fun. Naomi Lawrence has developed this concept and she is now travelling throug Queer Homes in Ukraine. The Queer Homes – these are cultural communication centres for the LGBTIQ-community operated by Gay Alliance Ukraine. With Naomi are Ania Shapiro, an American Human Rights activist from Berlin. She's, like Naomi Lawrence, part of Munich Kiev Queer. Plus: Mila and Vera, two Ukrainian filmmakers, shooting everything with their camera. In the end we will have a new documentary to show. A joint German-Ukrainian project, a labor of love for all.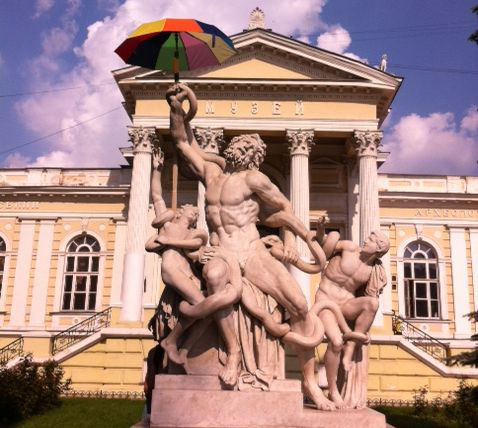 I really hadn't expected to return to Odessa so soon. During my last stay for the Odessa Pride in 2015, the atmosphere had been totally different; very tense and somehow unpredictable. But this time I can feel the relaxed and Mediterranean way of life again that makes this beautifully ailing town so special.
Everything is going according to plan. The whole Creative Protest Tour team is accommodated in a nice hotel near the city centre.
Ania Shapiro, our American human rights activist from Berlin, Mila and Vera, our highly professional filming team from Kiev, Vitali, the Queer Home coordinator from Jetomie and me, Naomi Lawrence. I am leading the Creative Protest seminars.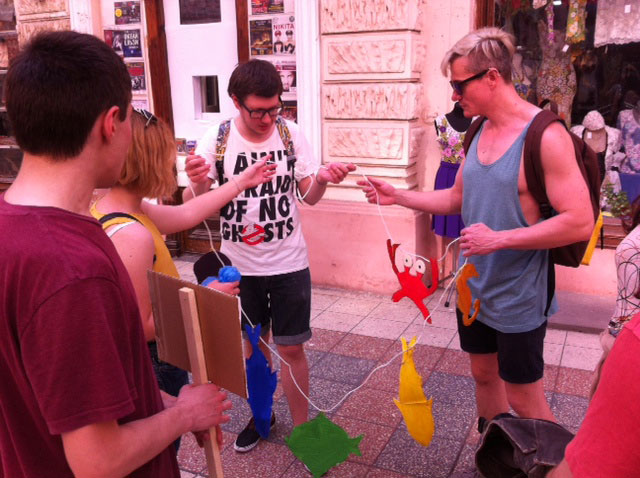 We are filming the Creativ Protest Tour so that we can document the successful collaboration of MKQ and GAU and, of course, the present situation in the Ukraine.
The efforts to improve the human rights situation is ongoing in spite of the war and the disastrous economic situation in the country. As long as there is no protection for minorities in this country, nobody can really feel secure. And a nation without security can't flourish, either economically or socially.
The next day we arrive at the Queer Home where the workshop is going to take place. I am delighted to see that everything is well prepared and even more than the expected nine participants have come.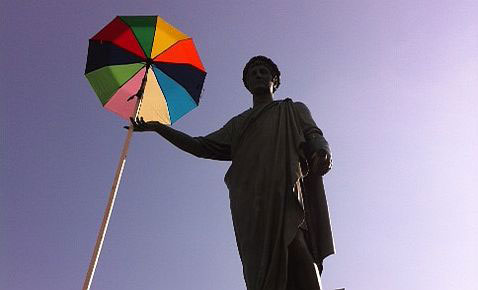 The workshop is going really well. The people are collaborative and listening attentively. From 13.00 – 19.00 they keep on discussing, listening and creating their own ideas with almost no breaks. At the close of the seminar, they are tired but also excited. The next day we want to send messages to Kiev. We want to show that the Kiev Pride is an issue for the whole country. And although the workshop was long and tiring, there is no question that everybody is going to be there for the flashmobs the next day.
Odessa is obviously on our side. The new day greets us with a blue sky and the heat along with the humidity that is so typical for this time of year. No need to worry about the expensive technical equipment anymore.
The motto of the pride doesn't sound too exciting: 'For your and our security!'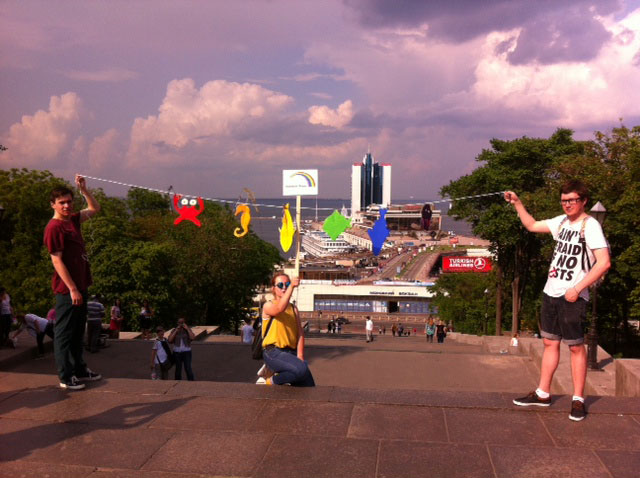 But actually it means, that the situation for the LGBTIQ Community has become even more grim. They are not fighting for equal rights anymore they are demanding basic existential needs. The country is at war. For all people, life has become harder and so minorities like the LGBTIQ Community have become the nation's scapegoat.
For this fundamental demand, we have found a simple and pretty symbol. An umbrella in the colours of a rainbow. Security and diversity in one. We made a sign saying 'Rainbow Tours' and we will behave like tourists who are participating at a sightseeing tour through the town. This umbrella we will place in the hands of many different Odessian statues in historical locations.
In Germany we wouldn't have second thoughts about such an action. But in the Ukraine the rainbow symbol is now pretty well known and has a bad reputation, "thanks to" the anti-gay propaganda of Russia. People who can be identified as part of the LGBTIQ Community are easy targets for aggression.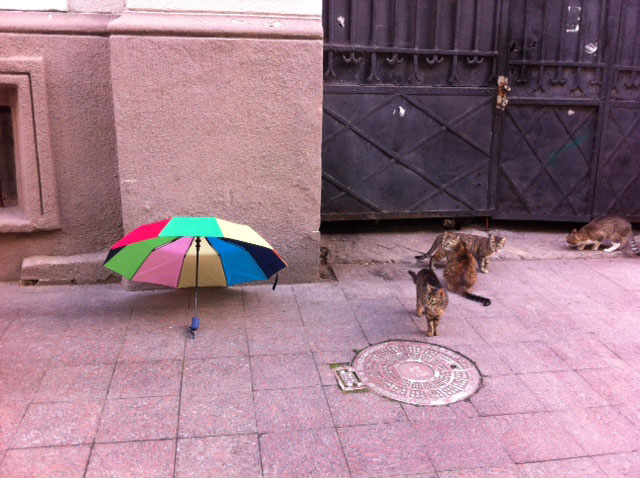 But we are well prepared. We know how to react in case we meet people with a high propensity of violence: Calm, polite and de-escalating. We know that "We're nice people!" and the motto for of this day is clearly set. We want to send a message of support to Kiev and we want to have fun.
So our group of ten people starts walking with our rainbow umbrella and our 'Rainbow Tours' sign and a 3 m extension rod for taller statues. Viktor is our tour guide. Almost non-stop he happily tells us historical facts about Odessa and her historical sights. Some of them true, some of them totally made up. The main task is to keep on talking.
Even when 2 young men approach him and sceptically ask him what 'Rainbow Tours' is, he stays right on track. 'Yes, we are taking photos for the company 'Rainbow Tours'. We're visiting the well-known places and take photos with the umbrella so that they know where he have been.' What a weird story! They are slightly confused but remain friendly. Good for us.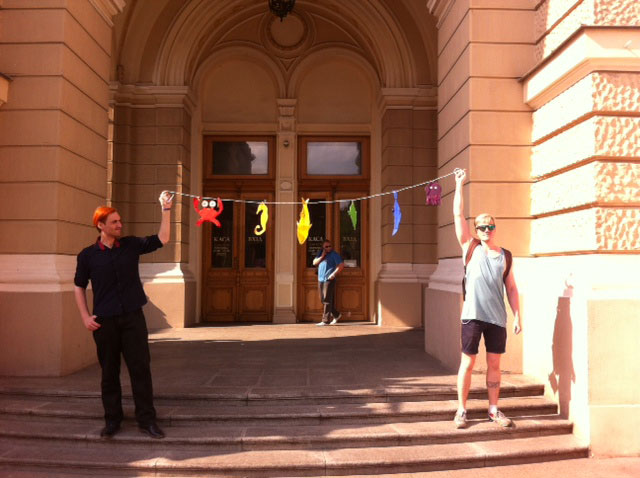 Giora has prepared this tour for us. He was the one, who had planned the sight-seeing tour in historical costumes for last year's Odessa Pride, which was forbidden by the government. So we keep on walking from one tourist attraction to the next in the heart of Odessa and place our colourful umbrella in the hands of statues who seem to have been waiting to get a grip on it.
All of them clearly benefit from this dab of colour.
Nobody disrupts us, so we just carry on as if 'Rainbow tours' was a totally normal travel group and attaching a rainbow umbrella to statues was a totally normal thing to do in the Ukraine.
We're coming up to our highlight, which is also going to be the end of the tour. The statue of the Duke of Richelieue which stands on top of the Potemkin stairs and overlooks the harbour of Odessa. This is the place that attracts most tourists and it is also the place where last year's flashmobs took place to protest against the ban of the Odessa Pride 2015. At that time there was Milicia everywhere but this year everything is peaceful and calm.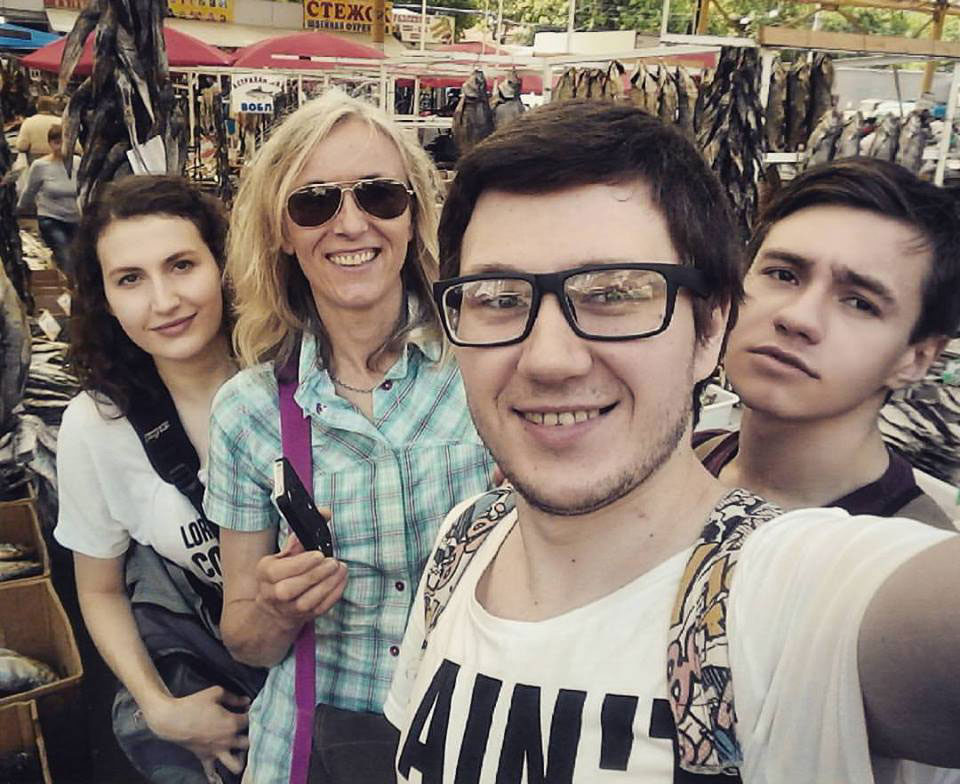 Nobody minds us attaching the umbrella to the Duke and posing with him. It's a beautiful photo motif. Afterwards we walk down the stairs a bit to take a photo of our group with the sea and the harbour in the background. And just as if it had all been arranged, dark clouds gather within minutes and unload a refreshing shower of rain over our heads. But luckily, we have an umbrella. It's perfect timing. Had the rain started only 10 minutes earlier we wouldn't have been able to accomplish our mission with these wonderful photos.
Together we walk back to the Queer home in a relaxed and cheerful mood.
It was a kind of test. How visible can the LGBTIQ Community be in Odessa, how much space can it take? The goal was to have fun together and send a sign of support to the Kiev Pride. We've seen enough pictures and reports about violence against LGBTIQ. We want a different reality!
It's a thin line between presence and provocation in a society that is so strongly homophobic as the Ukraine. But it is important to go to the limits of the acceptable presence. Otherwise, we will become invisible. And if we're invisible, the society can't learn that we are part of it and in fact always have been.
Tomorrow the journey continues to Zaporosie, an industrial town which is very close to the 'red zone'. It's the part of the country where fighting is going on. But nobody seems to know what exactly is happening there.
The trip will take 15 hours. We are all curious and excited.
[Naomi Lawrence]