VOLUNTEERS BLOG: Season three
11.04.2016 | sm — No comments
Spring is here, and, as the tradition goes, our friends from Ukraine are back in Munich!  On Saturday, April 2nd,  a group of LGBT activists from all over Ukraine flew to the capital of Bavaria to participate in a volunteers' education project. The participants will enjoy a week full of new experiences and emotions that they will share with you on this site, as well as in their personal blogs. We hope you'll enjoy reading about the Ukrainians' adventures in Munich.  But first off, let's get to know each other. Allow us to introduce:
Vadim Brazhnik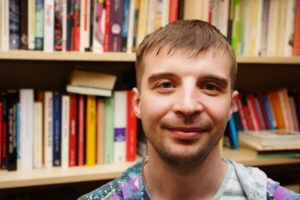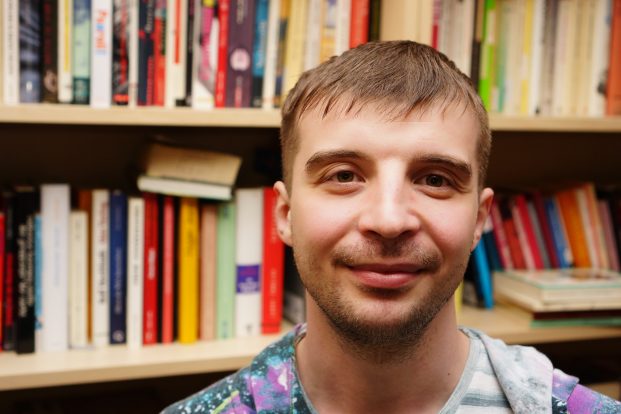 I'm Vadim – just a guy living in this world, like everyone else. Back in Ukraine, I coordinate the work of QueerHome Krivbass for the NGO Gay-Alliance Ukraine. I'm a versatile person and want to do as much as possible for the LGBT community in Ukraine. The opportunity to travel to Munich, Germany is a unique experience. Here, we can receive insight from those who greatly advanced the rights and equality of LGBT people in their own country. We can see the everyday realities of the life we are striving towards and learn about the steps needed to achieve them. Learning about the hidden obstacles that might occur along the way – as well as how to handle them – is also very important. After all – awareness is half the battle.
Yan Gubskiy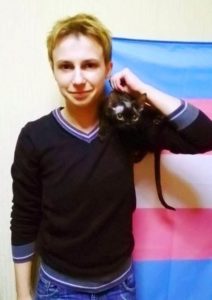 My name is Yan Gubskiy. I'm a transgender guy.  I can't say that I'm a typical one, though, since my story differs from the ones that are usually heard.
I was born in the city of Zaporizhye to a family without cookie-cutter gender roles. No one showed me or forced me to acknowledge the differences between girls and boys. At the time, I didn't really pay much attention to it. But when I turned 10 years old and puberty hit me, everything changed drastically. Girls whispered amongst themselves about boys, my breasts started growing, and I felt totally out of my element – this role in society just didn't fit me. But, at the time, I didn't have the slightest understanding of transgender identities and transitions, whether it be from man to woman or woman to man. Moreover, I had no idea that such a thing was possible in Ukraine. So, I adapted and lived in the role of a woman for a long time.
My transition started fairly recently, but I've been involved in activism for a while now. As it turned out, my friends were working on this topic, and little by little I started helping them and became increasingly involved. I volunteered for different organizations and participated in a large number of online and offline actions – I can't even remember them all now. But, generally speaking, it was the Zaporizhye QueerHome. Not long ago I moved to Kiev, and my friends and I created the initiative group "Lavender Threat." We engage in trans* activism and queer anarchism. I also have a hobby that I sometimes use in my advocacy activities – I love to draw – and I'm not too shabby at it, either.
Maria Loboda
Hello! My name is Maria and I'm 27 years old. I live in the city of Odessa, where I earned my degree in Tourism at the Economic University. I previously worked in the field for several years.
Around two years ago, I realized that I wasn't doing exactly what I wanted to do with my life. Everything seemed to be going well – but not great. So, I made the decision to pursue a second higher education – this time in psychology. I was always interested in the topic, but after school, it just seemed silly to study psychology instead of pursuing the more lucrative profession of an economist. And so, it only took me 25 years (a quarter of a century!) to realize that we should do what we love in life. Otherwise, we are spending our precious and rather limited time on this earth in vain. At the same time, I was interested in the life of Ukraine's LGBT community.  My interest in psychology was what brought me to the LGBT community center, QueerHome Odessa. I was intrigued by the performance of a local social theater and its influence on people's psychological state.
Currently, I am the Coordinator of the Odessa QueerHome and am a member of the organizational committee of OdessaPride. I was given the unique opportunity to go to Munich, get to know local volunteers, and learn about how German LGBT organizations function – as well as the long and challenging path they traveled to achieve their current success.
I dream that one day, human rights and the freedom of self expression – regardless of one's orientation or other characteristics – will be just as developed in Ukraine, and that volunteers from other countries will come to us for experience and support.
Serhiy Romanenko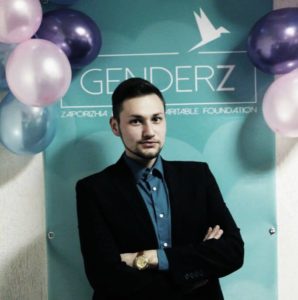 My name is Serhiy. I came to Munich from Ukraine, and would like to tell you a little bit about myself and my work in Ukraine, specifically in the city of Zaporizhya.
Since May 3rd, 2015, I have served as a social worker at NGO Gender Z. Specifically, I am working on the prevention project for HIV, STIs, hepatitis, and tuberculosis among MSM in our region. Since September 2015, I have also coordinated IZ, the volunteer gender orientation social theater that is based at QueerHome Zaporizhya.
My mission is to save lives and help people. That's why I came to Munich – to gain new knowledge and skills. That said, learning from the experience of LGBT activists in Munich will probably be the most valuable takeaway for me, since my country is currently in a period not unlike that of Munich in the 1980s. I want to change the situation in Ukraine regarding the LGBT community, transferring experience that inspires and gives hope.
Ekaterina Shilova
Hello everyone – I'm Katya. I'm 19 years old and come from the city of Kharkiv. I became involved in activism relatively recently, in December 2015. It happened a bit suddenly – at the time I went to the Kharkiv community center, where they were just given a big pile of books that needed to be dealt with. I volunteered to help.  That's how I gradually became involved in volunteer work and activism. Today I dedicate a lot of my free time to the Kharkiv QueerHome, where I help in planning, organizing, and carrying out events. I also keep track of visitors.
Beyond that, I am a university and music school student and work as a freelancer. Generally speaking, studying is my way of life. I hope that it will never end.
The fact that I was chosen to travel to Munich was very unexpected for me, since I do not have as much experience compared to the other participants. I am very grateful that the organizers believed in my potential and enthusiasm. Being in Munich right now is simultaneously a tremendous pleasure and a great responsibility. From this trip, I hope to gain a lot of knowledge, ideas, and experiences that can be implemented in Ukraine.
Kseniya Smolentseva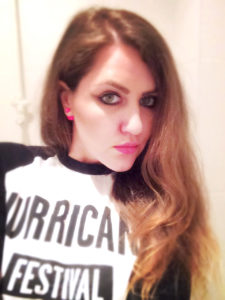 My name is Kseniya Smolentseva. Since 2015, I have worked as the Coordinator for QueerHome Kyiv. Activism is very important in our country, since our rights are not respected. Even members of our own community, under the pressure of public opinion, can't find support. This blockade of information prevents them from seeing all of the perspectives and problems of the LGBT movement.
My work consists of supporting people in their activities and informing them about the movement as a whole. One of the most important tasks of my work is to mobilize members of the community – to motivate and support them, and to help them develop their personal potential. Of course, we also introduce them to volunteering, where they can fully extend themselves and support others in a team. My goal is to guide people to the path of activism. At QueerHome Kyiv, we conduct training projects so that our volunteers can answer the call of duty and avoid problems with foreign languages and the terminology of activism. We also offer recreational activities to mobilize volunteers. Moreover, QueerHome is a place where people from outside of the LGBT movement can come and see that gays don't walk around in pink feathery boas, but rather are ordinary members of different social groups.  I'm in Munich because I  believe that education and the exchange of experiences are some of the most important aspects of our work. All of the knowledge gained during my trip will be transferred to our center, our volunteers, and activists. For that reason, my goal is to work and study as effectively as possible during this trip.
Yuriy Yoursky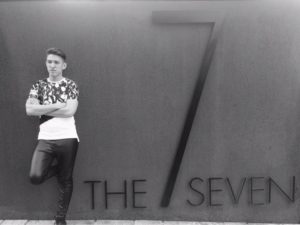 My name is Yuriy Yoursky. I was one of the lucky devils chosen to participate in the third volunteers' exchange in Munich – and I'm insanely happy about it.
I've been a "full-time" LGBT activist for three years now, and it seems like I'll be doing this for the rest of my life.  Although it is fairly difficult to be a human rights activist in Ukraine, it's also extremely interesting! After all, I'm sure, any profession has its difficulties – but also enormous benefits.
Working as the Program Director for the All-Ukrainian NGO Gay Alliance Ukraine, I have the incredible ability to constantly communicate and interact with representatives of the LGBTI community, which I am also a part of. I believe that communicating with people is the most valuable thing in life… The life of each and every one of us is so surprising, unique, and inimitable, and I approach every new acquaintance like a book that's hot-off-the-press but that hasn't yet been read. Every single person is imaginative and creative in their own way, and that should be nurtured. For that reason, I prioritize the fields of art-activism, social gender theater, and LGBT-filmmaking.