PRIDEBLOG Panic during KyivPride
09.06.2015 | cb — No comments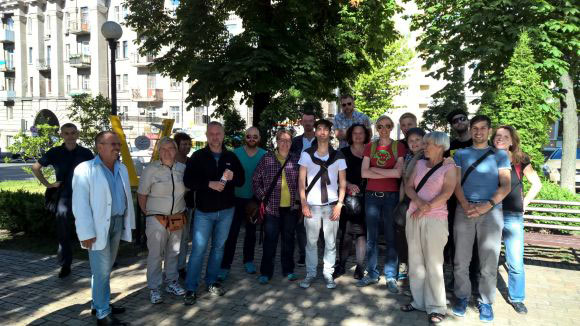 It is unreal. At night mails come in with details for the meeting point tomorrow and safety instructions. Tomorrow the March of Equality will be held. My head is full of thoughts. I can hardly sleep and only poorly. I have a light breakfast, fruits only, something light. More my stomach can not stand. At eight o'clock we go to the meeting point, which was a secret until now. What can we expect?
On the way to the subway there is silence. Every now and then we look at each other, nod, smile. Everything will be fine, I think. We have Vova with us, the best security man from KyivPride. I feel good. The metro takes us out to the north of the city, then we must walk through a residential area with prefabricated buildings, down to the Dnepr river. It is beautiful here.
There they are: Hundreds of police officers. So this is the place the Pride March is supposed to be held. The policemen do not look happy, nor friendly. But I have to trust them. The area is cordoned off. Three rows of policemen.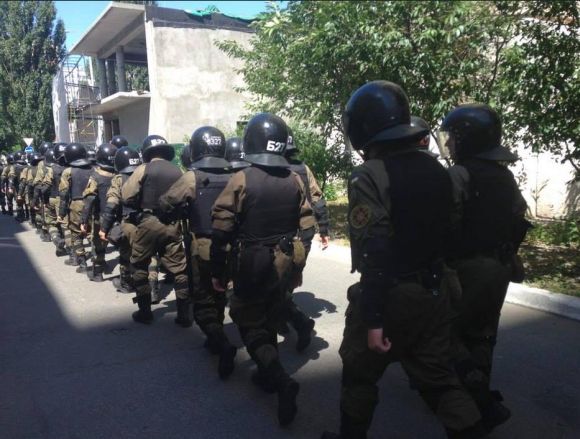 Suddenly, it has to be fast. The row of policemen opens up and we should run to the other side of the empty square to where the march begins. We are jubilantly greeted and warmly welcomed. "We welcome our guests from Munich". We look at each other again and the atmosphere slowly relaxes.
Suddenly I hear: "Problem – run". A horde of dark clad people running towards us. Here they are the right wing group and fascists to incite us. It pops, flying flares. We run backwards. I almost had lost my buddy Kerstin. Each of us needs to have such a buddy; so everyone has someone to look at and take care of. Panic is spreading.
The police storms forward and seals off, another blast, even a rocket. We stand there. Are afraid. But we can not get out of here or away from this spot. The whole residential area is likely to be penetrated by the right wing mob. We must persevere, watch as a seriously injured policeman gets first aid. He has an injury to the carotid artery. Was probably attacked by a piece of metal.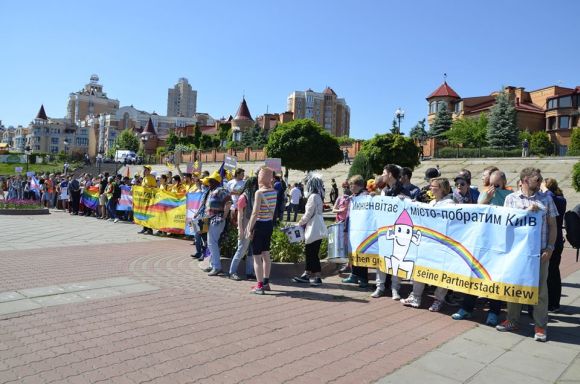 There are arrests. When asked, "How the three rows police come by?", we receive no answer. Some say the police had passed it. Others claim they have gained access. The scene calms down, the organisers do as best they can. They talk to us. "The police can do its job," they say. They're right. They can.
We're going back in formation. The march begins. We are happy that we finally start moving. And yet we are shocked by what has just happened, frightened and yet we feel safe because of the police who accompanied us. So I march. We call on: "Human Rights are my Pride".
Behind me, the group of Amnesty International, and in front of them with drums and whistles the band Rhythms of Resistance. Emotions shoot high. My eyes are wet. The March is over. We stand there and ask ourselves: "How do we get out of here? Are we accompanied back to the subway? Will buses come? The plan is to go in a closed group to the subway. It does not take long until a few hundred metres in front of us the black-clad mob appears again.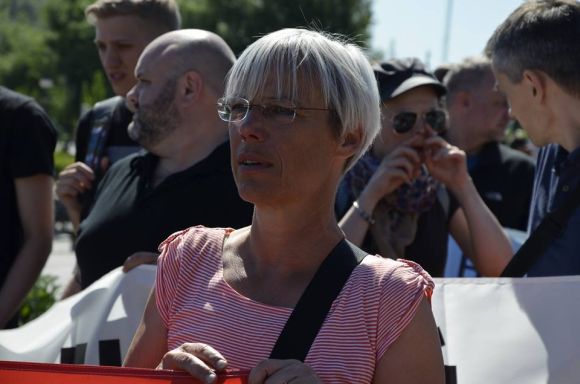 "Run," they say, "run". But where? We run into the residential area towards the main street. But here we are not safe because from the other side another group of hooligans is running up. We split, but do not know where to go. We are saved by a post office. Others of us run into a café; the owner assures us protection. Klaus of the Berlin band Tubbe whose show should occur in the evening at the gay Lift Club today is hiding in the supermarket. Others manage to grab a taxi and leave the scene.
We rush to the post office, to hide – to the chagrin of employees. We see the police move in, who want to keep the Rights in check. Later we learn that it was too late for some activists. There are injured. We are waiting. Or rather, we persevere, locked up in an Ukrainian post office. Fortunately, Olena and Taras are with us, two of the main organizers of KyivPride. We order taxis as well. We are 13 people, and it takes an eternity until the vehicles arrive. Outside there is still a raging mob, police everywhere: They are running a back and forth race, with smoke, noise, chaos. The situation is completely unclear.
In small groups we run into the road whenever a taxi comes. Fast closing the doors and going. So we come back bit by bit to downtown. A good half an hour later we're all doing well in a café in downtown , the New York opposite to the German Embassy. News pop in: Five injured policemen, hundreds were on the  site. 200 people took part in the Pride March . There were 25 arrests , the protesters had knifes, firecrackers and screwdrivers . They were incredibly brutal and hateful. The posts on the net roll over, hundres of media reports. Today all events are canceled . We begin to process the experience.
[Text: Thomas Rappel]