From Despair to Hope. LGBT-situation in Ukraine in 2014
01.03.2015 | cb — No comments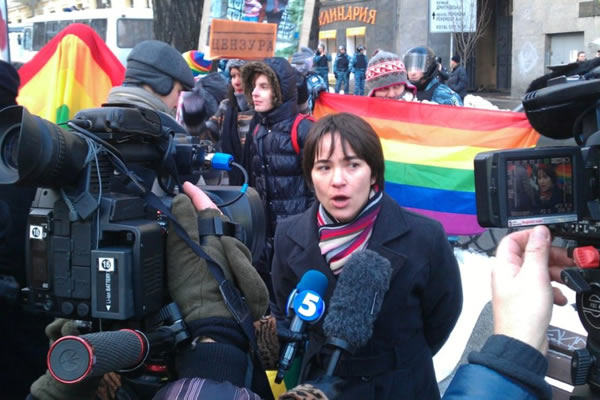 In 2014, the law relating to LGBT interests in Ukraine has undergone some changes. Amendments to anti-discrimination legislation theoretically facilitate the possibility of overcoming unequal treatment towards LGBTs, and the Association Agreement between Ukraine and the EU placed on our state a clear commitment to prohibit explicitly discrimination on the ground of sexual orientation in employment. However, these legislative changes only created the opportunity for further reform of Ukrainian legislation and implementation of European standards, but they led to no significant changes in the law's practical application. We noted both a (hopefully temporary) refusal by the new Ukrainian government to include sexual orientation and gender identity explicitly in the list of grounds protected from discrimination, and a quiet abolition of all homophobic draft laws which were previously introduced before Parliament.
During 2014 representatives of Ukrainian state bodies and local governments largely refrained from any statements and actions regarding LGBTs.
The political life of Ukraine in 2014 was characterized above all by transition of ideological confrontationbetween the "Russian World" and modern West in the public consciousness to a real, bloody conflict. This process began in the events of the so-called Euromaidan in late 2013 – early 2014, and continued with the Russian occupation of Crimea and southern Donbas. Issues related to LGBTs faded away against the backdrop of these more encompassing events, becoming only a symbolic marker within the Russia/EU geopolitical choice. In such circumstances, Ukrainian politicians, who support a Europeanfuture for Ukraine, divided into two groups: conservative, declaring tolerance towards LGBT people butnot ready to give them equal rights, and liberal, rejecting any discrimination. Openly homophobic pro-Ukrainian political forces became marginal and lost early parliamentary elections. Pro-Russian politicians, whose essential marker is declarative homophobia, in the circumstances of Russia's waragainst Ukraine, mostly betrayed openly their homeland and left the Ukrainian political field.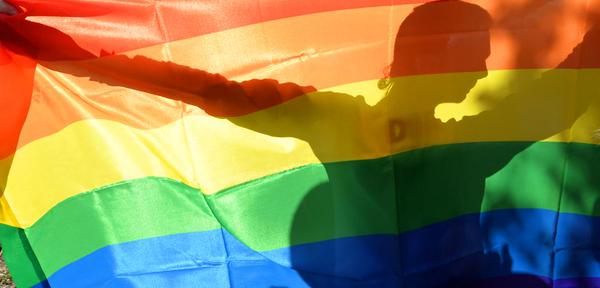 The difficult situation in the country in 2014 (political, economic and social crisis; occupation of Crimea; the war in Donbas) generally distracted the attention of the media and Ukrainian society from the rest of the topics, including issues related to LGBT life – all the more so since this situation has led to anoticeable decrease in public activity of the Ukrainian LGBT community. However, both the national media and the general public could not overlook paying some attention to the dramatic changes that took place during 2014 in relation to LGBT people around the world, especially, in the countries of the Western civilization.
Leading Ukrainian churches noticeably reduced their homophobic activity back in 2013, and in 2014 this trend remained. Perhaps not wanting to look like defenders of "The Russian World traditional values", they have moved from outright incitement of general hostility and hatred against LGBT people and calls for their discrimination, to a more moderate condemnation of LGBT organizations' public activism and criticism of the worldwide trend towards recognition of same-sex marriage and adoption of children by same-sex couples.
2014 was a year of dramatic and fateful events in Ukraine. The Ukrainian LGBT community participated in all these events – from Euromaidan to war with terrorists and Russian invaders in Donbas – along with all Ukrainian society as an integral part of it. In view of the difficult situation in the country, most of theUkrainian LGBT community's activity this year was aimed at overcoming our nationwide crisis anddefending the push for a European future for our country.
Nash Mir Center has documented 54 cases of rights' violations on grounds of the victims' sexual orientation or gender identity, covering the period from October 2013 to December 2014. The greatest number of cases occurred in Zhytomyr (14), Chernivtsi (12) and Kyiv (11). In addition, in Ternopil, Ivano Frankivsk, Kharkiv, Vinnytsia, Odesa were documented 2 incidents in each city, and 1 incident in each of the cities of Cherkasy, Lviv, Dnipropetrovsk, Kryvyi Rih, Luhansk, Donetsk, and in AR Crimea.
Zhytomyr and Chernivtsi dominated the number of collected cases among the other locations simply because in 2014 we conducted special projects focused on documenting cases in these target cities. This suggests that the real level of discrimination and violence against LGBT people in many Ukrainian cities would be much higher than shown in this report, if only we could provide more effective information collection in these regions. Accordingly, we emphasize that this report provides not a quantitative but solely a qualitative assessment of the situation.
However the situation of LGBTs worsened during the last year in Ukraine in general, it cannot be compared with the more dire situation in the occupied territories: that is, in Crimea, and especially in the area of the anti-terrorist operation (ATO) in Donbas. In each of these regions the situation exhibits great local peculiarities. The one characteristic that unites them is the fact that any social activities — and even the social visibility of LGBT people — have become forbidden and dangerous for LGBTs' existence.
In view of the fact that in 2014 Ukraine finally chose the European vector of development and began the process of preparation for its accession by EU, the problem became quite urgent to overcome traditional homophobia and discrimination against LGBT people in Ukrainian society. Acceptance for LGBTs is one of the most important markers of modern Western society, which distinguishes it from the authoritarian, totalitarian and archaic countries led by Russia. Furthermore, for the last decade equal inclusion socially and under the law has become an essential standard, in the absence of which it is basically impossible to talk about the successful integration of Ukraine into modern Europe.
[Nash Mir Centre]