"Fear paralysed me"
09.04.2023 | cb — No comments
Stas left his home town of Kramatorsk because of the war. His life has not improved since then: He escaped with his brother, who rejects him because Stas is gay. In Butcha he met a homophobic jerk from his school days. His boyfriend fled to Poland and Stas has lost his job, too. Now he wonders how this will all end. Our correspondent Iryna Hanenkova spoke with Stas.
My name is Stas. I come from Kramatorsk. Back in 2014, I lived under Russian occupation for several months. So when Russia started its full-scale war against Ukraine on 24th of February 2022, I was already prepared for what was coming.
My friend, now ex-boyfriend, lived in Butcha at the beginning of the war. You know the town from the news. Since I didn't want to imagine what he went through there, I haven't asked him until today what happened. He doesn't really want to talk about it; I understand him well.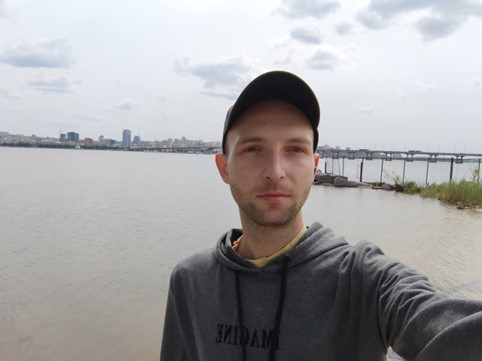 But one thing has stayed in my memory from what he told me: When he came out of the bunker to look for food, he lost his appetite because it stank of burnt corpses everywhere.
In April 2022, my brother, his family and I decided to leave Kramatorsk. Thank God there were technical problems with the ATMs at that time, so long queues formed in front of them. I queued for a long time, too, to get money and we were late to the station. That day, a rocket hit the train and killed 30 civilians, over hundreds were injured. I was just lucky.
Accusations, fights, humiliations
My brother and I don't get along well. He is not happy that I am gay. After we fled to Dnipro, a month of humiliation began. I lived in a separate room, which I hardly left, and did not communicate with him and his wife because we always started arguing right away. I decided to move out because I felt persecuted. I imagined I could hear them whispering about me even though they were not even at home.
I went to Butcha to stay with my boyfriend. Here we lived with a classmate and her family and – Anton. Anton is a friend of my friend's husband, and Anton is, of all people, the guy who used to follow me around after school with his friends, beating me up and taunting me.
The first weeks were really hard: again I was reminded of who I was. The fear from my childhood paralysed me, shut me down. But with time we found an amicable coexistence, although he remained unbearable.
A friend barely survived
With the onset of winter, everything became even more difficult: I lost my job because of the constant power cuts. I urgently needed warm clothes, because I had not packed anything suitable in my suitcase in the panic before. My boyfriend fled to Poland. From now on, I had to get along with Anton all by myself.
Just the other day, the Russian military bombed my home town of Kramatorsk again, destroying residential buildings. A friend has miraculously survived after a missile hit her house. I don't know what will happen next, how I can go on living, what will happen tomorrow and how this story will end. As long as this war continues…
This is how you can help
---
INDIVIDUAL HELP Munich Kyiv Queer has its own fundraising campaign via www.paypal.me/ConradBreyer to support people in Ukraine who need help and are not organised in the local LGBTIQ*-groups. We can help fast, directly and unbureaucratically.
HELP FOR LGBTIQ* ORGANISATIONS To support LGBTIQ* in Ukraine we have helped set up the Alliance Queer Emergency Aid Ukraine, in which around 40 German LGBTIQ* Human Rights organisations are involved. All these groups have access to very different Human Rights organisations in Ukraine and use funds for urgently needed care or evacuation of queer people. Every donation helps and is used 100 percent to benefit queer people in Ukraine. Donate here
Questions? www.MunichKyivQueer.org/donations