KyivPride 2018 – The KyivPride Diary
25.06.2018 | cb — No comments
25 people from Munich travelled to KyivPride 2018. The delegation of the lesbian, gay, bi*, trans* and inter* community from Munich has never been so large and colourful. In our KyivPride Diary we report about our adventures. Text: Sezgin Inceel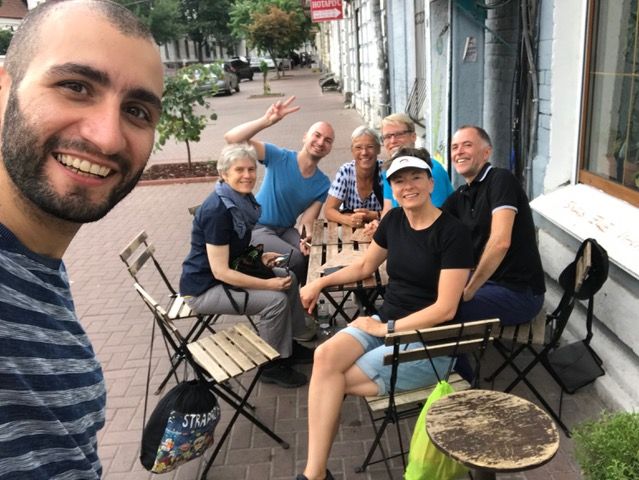 I must admit, I had not known much about the city of Kyiv (nor Ukraine as a country) when I saw the invitation from Munich Kyiv Queer for joining the Pride March with them. I immediately said 'Yes!' with great excitement. I knew that it would be nothing like Pride parade in Munich, where the event is a big celebration of diversity. But it hit me only a few days before I flew that marching could also be 'a little bit' dangerous when I read the safety instructions, distributed by Kyiv Queer activists. I read that extremist groups would not just try to stop the parade, but they would also take photos of participants of the Pride Parade in order to attack them later on the streets. Our safety guide suggested a dress code.
We were also urged to have in bag pack and to learn how to protect the skin from the gas in case the groups attacked us. Now listen, I am a kind of boy, who is passionate about human rights and love fighting for them. But do not assume that I find myself on the streets every day literally fighting with people. I am an introvert. I have a mild nature. Most of the time I put my activism into my creativity and use my music, art, words and teaching in order to raise the awareness. However, this time the situation was different.  Friends from Kyiv needed us to support them and be on the streets for their rights. I did not want to sit at home, I wanted to be a part of it. As Roosevelt said, I wanted to be the man in the arena*. I felt fear and concern for my security, but that was not all. It was also a deep sadness of realizing that we still had to do this in 2018 because some people simply would not respect people who did not live, speak, and act like them.
How do hate and anger feel?
Three days before the parade five of us from Munich arrived in beautiful Kyiv and joined the rest of the Munich delegation. Before exploring the city our first day started with a visit to the German Embassy. They were so kind to invite us for a reception and tell the political situation in Kyiv. They answered questions and made sure that we were safe. Feeling safe is a good thing. Even as a Turkish person (who has witnessed Gezi Protests and the latest pride parade banning in Istanbul since 2015) it was still crazy for me to think that there were some people who would make us plan so much, instead of just joining and celebrating with us. It was almost 30 degrees outside and I was wondering how many degrees do hate and anger feel in their bodies? Why would they continue doing that to themselves?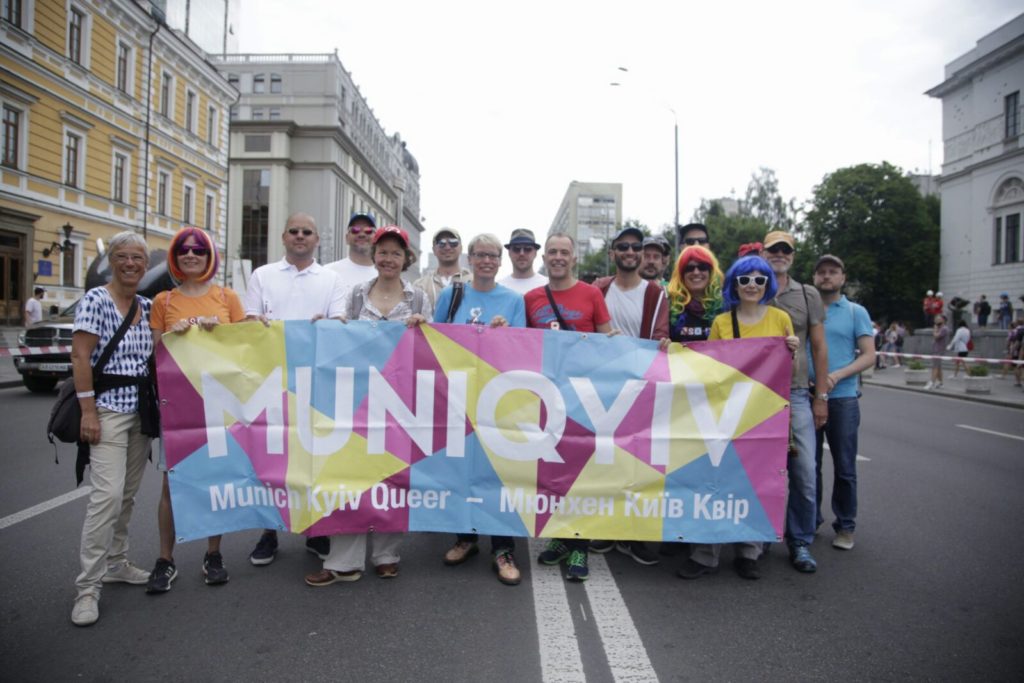 I had to leave my deep thoughts at the Embassy, so that I could enjoy the city. After the reception, I explored the town and got to join the Pride party in the evening at the Pride House. There I met a lot of local activists. I loved how humble they were and I loved seeing the passion and hope in their eyes. I also had a chance to get to know other participants from Munich a bit more. Which was quite cool because apparently there were many people, thinking and functioning like me, who happened to be my neighbours in Munich. We obviously made plans to meet up in Munich.
The day before the pride itself we had a dinner altogether and received one last briefing. It was about the security during the parade, amount of polices, the subway trains, which were allocated for Pride marchers and would pick us up after the parade and leave somewhere else in town. I could see glimpses of concerns in some people's eyes, but also excitement.
Love ist just love
The morning of the parade police closed the marching area, and let people in only after searching their bags carefully. We went through the police wall and took our slot at the marching crowd. Some of us covered our faces with hats and glasses, whereas some of us were there with their face open, daring the counter-protesters. And we started walking in the middle of different groups of people. One of the most unforgettable moments in my life. It was THE Pride march. Angry looks on one side – I mean, really angry. Extremists, who take photos, which means "You'll see when I get you afterwards".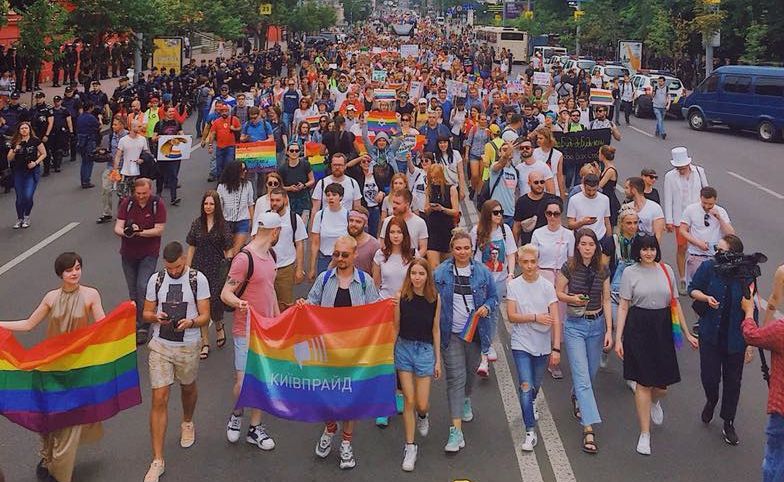 Massive amounts of policemen and soldiers on the other side in order to protect us.  Counter-demonstrators march against us. Some people on their balconies – a few of them even waved back, which was more than enough to cheer the marchers up. I was happy, sad, proud and everything in the same time. I was not concerned regarding the safety anymore. I was moved. Being there for me was much more than writing hundreds of pages about it. Being there made me realize that there was still a lot to do, long way to go, but there was also the light, the hope, the solidarity. Being there made me understand again that love is just love, people are just people. We are all similar creatures, who neither own the earth, nor are owned by anything or anyone. We are thinking and speaking animals, trying to figure out life and finding the way. With these thoughts and joy in my mind, the marching ended peacefully and the plans moved smoothly.
In the evening when we met altogether, I could see relief and pride replaced the yesterda''s concern. I understood why I wanted to be in Kyiv Pride again. Marching with other activists was empowering, inspiring, and emotional. I haven't felt so much alive for a long time. It was maybe only a tiny little stone we put in the 'change' building; but it was something. We made it together.
Being part makes you feel living
Times will change, I know. Until then, resist Kyiv. And thank you very much for being a great host. Thank you very much Munich Kyiv Queer for giving me the opportunity to march together and be part of this powerful experience.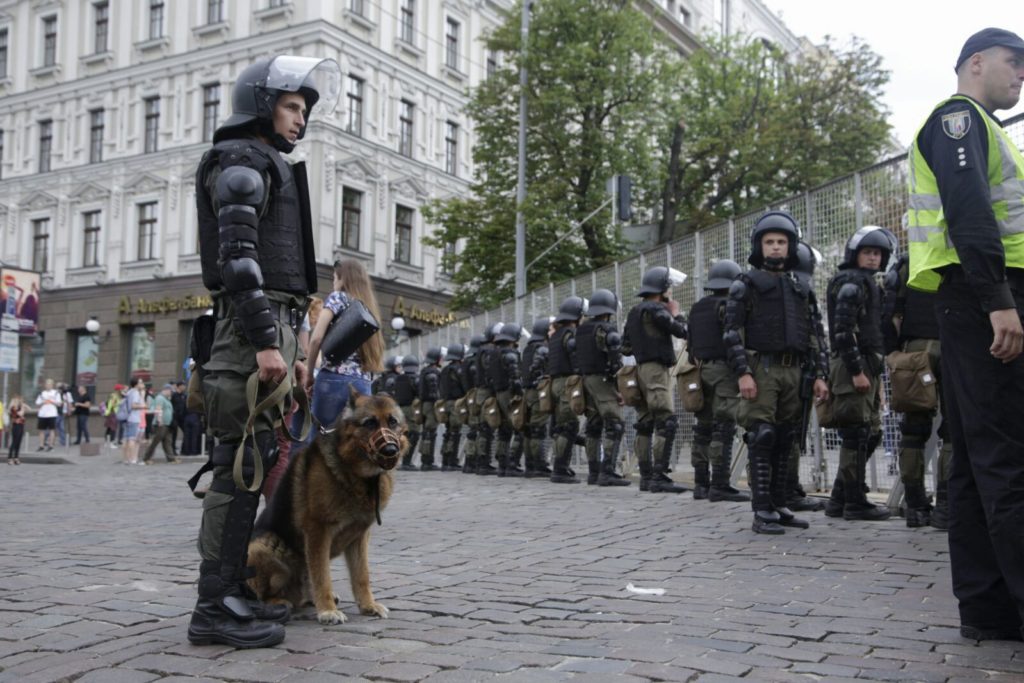 Remarks: * Theodore Roosevelt, Man in the Arena speech, 1910; edited by Ilker Hepkaner